About
Overview
Sequencing and annotation of the little skate (Leucoraja erinacea) genome is an ongoing project undertaken by the North East Bioinformatics Collaborative (NEBC) — a collaborative effort of the bioinformatics core facilities in the five NIH IDeA/NSF EPSCoR-supported states of the northeastern U.S. (Delaware (DE), Maine (ME), New Hampshire (NH), Rhode Island (RI), and Vermont (VT)). The NEBC was born out of the larger North East Cyberinfrastructure Consortium (NECC), a partnership that aims to build the critical infrastructure with physical resources and cyber-knowledgeable research scientists necessary to promote cutting-edge research within its member states, while leveraging complementary resources and expertise across the Consortium.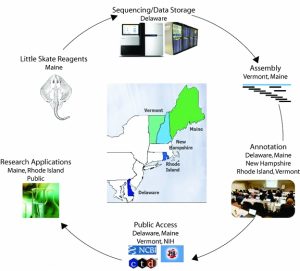 Collaborative Use of Specialized Resources & Expertise
The project builds on the expertise and resources provided by the Bioinformatics Cores of the five northeastern states that form the NECC, which includes:
Little Skate Clones: MDIBL – Mount Desert Island Biological Lab (ME)
Next-Generation Sequencing: UD DNA Sequencing & Genotyping Center (DE)
Sequence Assembly: Vermont Genetics Network (VT) with ME, RI
Sequence Analysis/Annotation: pipeline at DE, ME, RI, NH and VT
Storage & Access Of Sequence/Annotation Data: Shared Data Center (DE, ME)
Public Dissemination: DE, ME, VT, NIH
Contact
The Little Skate Genome Project and SkateBase teams can be contacted by email at info@skatebase.org.
Funding
This work is supported by linked grants from the National Center for Research Resources, National Institutes of Health (P20RR16462 for Vermont Genetics Network – Vermont INBRE (IDeA Networks of Biomedical Research Excellence), P20RR016463 for Comparative Functional Genomics INBRE in Maine, P20RR016457 for Rhode Island INBRE, P20RR018787 for Cellular and Molecular Mechanisms of Lung Disease, P20RR016472 and 3P20RR016472-09S2 for Delaware INBRE) and Experimental Program to Stimulate Competitive Research (EPSCoR), National Science Foundation (EPS-0918284 for University of Vermont, EPS-0918033 for University of New Hampshire, EPS-0918078 for University of Delaware, EPS-0918018 for University of Maine, EPS-0918061 for University of Rhode Island).